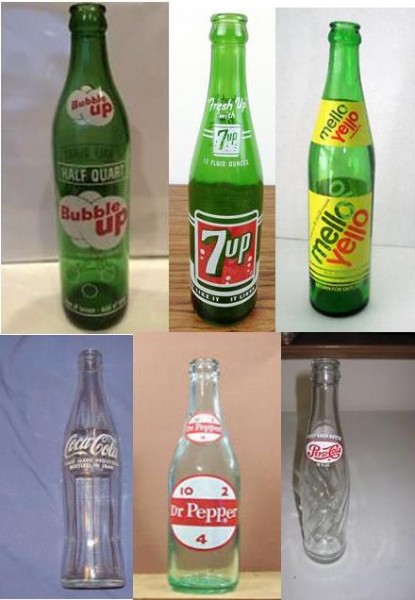 "A Soda Bottle's Story of Redemption"
Many of you remember the 16oz glass bottles sold in 8 packs. What I remember most about those bottles was the fact you could carry them back to the store and they would give you a nickel for them. To a kid it was great to be getting something for nothing. As kids we saw those bottles as worthless. We would find them in ditches and trash cans. They would be filthy and disgusting. At the time I could not see why someone would pay for something so vile. However since then I have learned the rest of the story. It is a story of redemption.
I now know that the filthy bottle we saw as vile was worth a lot to its creator (the bottling company). You see the creator was willing to buy it back, because the creator knew it could be restored to its original intended purpose. However, there were four steps that had to be accomplished by the creator before it could be useful.
First, a price must be paid in order to obtain the bottle. And the creator was willing to pay the price to redeem his creation.
Second the bottle must be purged or cleaned. The creator would purge the bottle with steam to clean it spotless.
Third the bottle must be filled. The creator would fill his creation with something that would let his bottle be known by its content.
Fourth and last, the bottle would have to be sealed. The creator would then finish by sealing the bottle. He would do this to keep his product in and to keep unwanted stuff out.
With that, the vile bottle has now been redeemed and thus restored. The bottle could now go out and serve its intended purpose.
In God's word we read a very similar story, "The Redemption of Man".
"In whom we have redemption through his blood, the forgiveness of sins, according to the riches of his grace; "Ephesians 1:7
You see, we have a Creator that was willing to pay the price to redeem us. He paid the ultimate price in giving his only begotten son JESUS. Through this act he purged/cleaned us with the blood of JESUS. He then filled us with the His Spirit, His Love, and His Will. Then he capped us off with the seal of the Holy Spirit of promise. "Which is the earnest of our inheritance until the redemption of the purchased possession, unto the praise of his glory." Ephesians 1:13-14
If you have been REDEEMED, then rejoice in the Lord. If not, know this; there is a God that created you and loves you. He loves you enough to pay the highest price to redeem you.
And they sung a new song, saying, "Thou art worthy[JESUS}: for thou wast slain, and hast redeemed us to God by thy blood out of every kindred, and tongue, and people, and nation;"
Pastor